La partition « The boys from the County Armagh »

Partition gratuite en PDF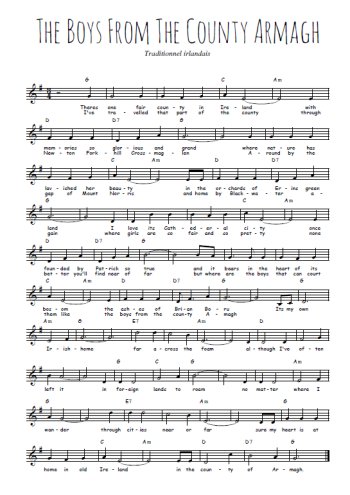 Paroles
1. There's one fair county in Ireland
With memories so glorious and grand
Where nature has lavished its bounty
It's the orchard of Erin's green land
I love her cathedral and city
Once founded by Patrick so true
And it bears in the heart
Of it's bosom the ashes of Brian Boru

It's my own Irish home
Far across the foam
Although I've often left it
In foreign lands to roam
No matter where I wander
Through cities near or far
Sure, my heart's at home in old Ireland
In the County of Armagh

2. I've traveled that part of the county through
New Town, Fork Hill, Crossmaglen
Around by the gap of Mountnorris
And home by Blackwater again
Where the girls are so gay and so hearty
None fairer in Erin Go Bragh
But where are the boys that can court them
Like the boys from the county Armagh ?
Commentaires
Laissez votre adresse email si vous souhaitez une réponse