La partition « The Black Velvet Band »

Partition gratuite en PDF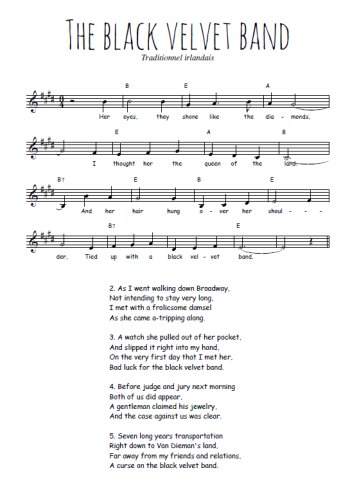 Paroles
1. Her eyes, they shone like the diamonds,
I thought her the queen of the land.
And her hair hung over her shoulder,
Tied up with a black velvet band.

2. As I went walking down Broadway,
Not intending to stay very long,
I met with a frolicsome damsel
As she came a-tripping along.

3. A watch she pulled out of her pocket,
And slipped it right into my hand,
On the very first day that I met her,
Bad luck for the black velvet band.

4. Before judge and jury next morning
Both of us did appear,
A gentleman claimed his jewelry,
And the case against us was clear.

5. Seven long years transportation
Right down to Van Dieman's land,
Far away from my friends and relations,
A curse on the black velvet band.
Commentaires
Laissez votre adresse email si vous souhaitez une réponse