La partition « Heigh ho for a husband »

Partition gratuite en PDF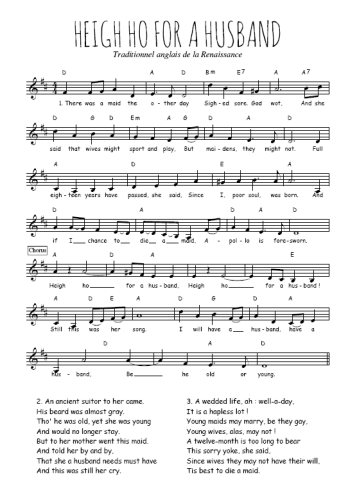 Paroles
1. There was a maid the other day
Sighed sore. God wot,
And she said that wives might sport and play,
But maidens, they might not.
Full eighteen years have passed." she said,
Since I, poor soul, was born.
And if I chance to die a maid,
Apollo is foresworn.

Heigh ho for a husband,
Heigh ho for a husband !
Still this was her song.
I will have a husband, have a husband,
Be he old or young.

2. An ancient suitor to her came.
His beard was almost gray.
Tho' he was old, yet she was young
And would no longer stay.
But to her mother went this maid.
And told her by and by,
That she a husband needs must have
And this was still her cry.

3. A wedded life, ah : well-a-day,
It is a hapless lot !
Young maids may marry, be they gay,
Young wives, alas, may not !
A twelve-month is too long to bear
This sorry yoke, she said,
Since wives they may not have their will,
Tis best to die a maid.
Commentaires
Laissez votre adresse email si vous souhaitez une réponse
Vidéo
Infos
Il est question de cette chanson dans la pièce de Shakespeare Much Ado About Nothing (Beaucoup de bruit pour rien), Acte III, Scenes I et Iv. On la trouve dans le manuscrit de John Gamble.