La partition « East Virginia »

Partition gratuite en PDF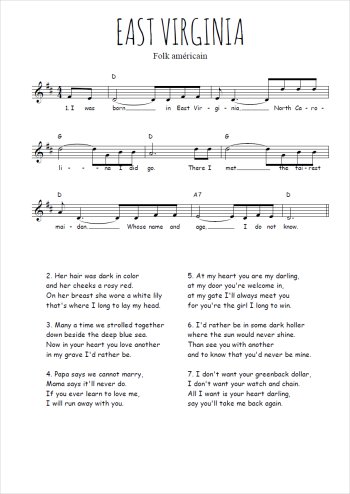 Commentaires
Laissez votre adresse email si vous souhaitez une réponse
Paroles
1. I was born in East Virginia,
North Carolina I did go.
There I met the fairest maiden.
Whose name and age, I do not know.

2. Her hair was dark in color
and her cheeks a rosy red.
On her breast she wore a white lily
that's where I long to lay my head.

3. Many a time we strolled together
down beside the deep blue sea.
Now in your heart you love another
in my grave I'd rather be.

4. Papa says we cannot marry,
Mama says it'll never do.
If you ever learn to love me,
I will run away with you.

5. At my heart you are my darling,
at my door you're welcome in,
at my gate I'll always meet you
for you're the girl I long to win.

6. I'd rather be in some dark holler
where the sun would never shine.
Than see you with another
and to know that you'd never be mine.

7. I don't want your greenback dollar,
I don't want your watch and chain.
All I want is your heart darling,
say you'll take me back again.
Mais aussi

Chansons américaines
Boom boom ain't it great to be crazy
Five little ducks
Home on the range
Jesus loves me
On top of old smokey
Les plus téléchargées
Joyeux anniversaire
Au clair de la Lune
Bella ciao