La partition « Girls and boys come out to play »

Partition gratuite en PDF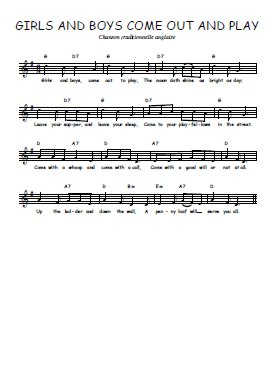 Commentaires
Laissez votre adresse email si vous souhaitez une réponse
Paroles
Girls and boys, come out to play,
The moon doth shine as bright as day;
Leave your supper, and leave your sleep,
Come to your playfellows into the street.

Come with a whoop and come with a call,
Come with a good will or not at all.
Up the ladder and down the wall,
A penny loaf roll will serve us all.
Mais aussi

Chansons anglaises
Hickory, dickory dock
I had a little nut tree
Jack and Jill
Lavender's blue
Little be-peep

Chansons irlandaises

Chansons écossaises
Les plus téléchargées
Joyeux anniversaire
Au clair de la Lune
Bella ciao