La partition « Colcannon »

Partition gratuite en PDF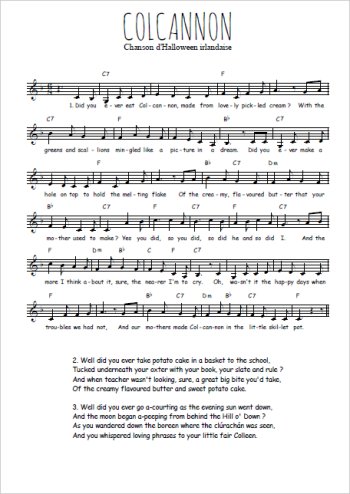 Paroles
1. Did you ever eat Colcannon, made from lovely pickled cream?
With the greens and scallions mingled like a picture in a dream.
Did you ever make a hole on top to hold the melting flake
Of the creamy, flavoured butter that your mother used to make?

Oh you did, so you did, so did he and so did I.
And the more I think about it, sure, the nearer I'm to cry.
Oh, weren't them the happy days when troubles we had not,
And our mothers made Colcannon in the little skillet pot.

2. Well did you ever take potato cake in a basket to the school,
Tucked underneath your oxter with your book, your slate and rule?
And when teacher wasn't looking, sure, a great big bite you'd take,
Of the creamy flavoured butter and sweet potato cake.

3. Well did you ever go a-courting as the evening sun went down,
And the moon began a-peeping from behind the Hill o' Down?
As you wandered down the boreen where the clúrachán was seen,
And you whispered loving phrases to your little fair Colleen.
Commentaires
Laissez votre adresse email si vous souhaitez une réponse
Vidéo
Traduction
Avez-vous déjà mangé du colcannon, fait à partir de bonne crème marinée ?
Avec les légumes et les échalotes mélangées comme l'image d'un rêve.
Avez-vous déjà fait un trou au sommet pour y mettre les flocons fondants
De beurre crémeux et parfumé que mère faisait votre mère ?