La partition « Acis et Galatea, O the pleasure of the plains »

9 pages
Partition gratuite en PDF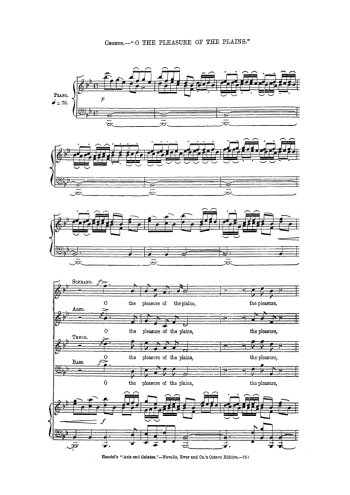 Paroles
Oh, the pleasure of the plains!
Happy nymphs and happy swains,
Harmless, merry, free and gay,
Dance and sport the hours away.
For us the zephyr blows,
For us distills the dew,
For us unfolds the rose,
And flow'rs display their hue.
For us the winters rain,
For us the summers shine,
Spring swells for us the grain,
And autumn bleeds the wine.
Commentaires
Laissez votre adresse email si vous souhaitez une réponse
Vidéo
Traduction
O, le plaisir des plaines !
Les nymphes heureuses et les amoureux,
Inoffensifs, heureux et libres,
Dansez, bougez pendant des heures.
Car le Zéphyr souffle,
Pour nous apporter la rosée,
Pour nous ouvrir la rose...