La partition « Flag of '76 »

Partition gratuite en PDF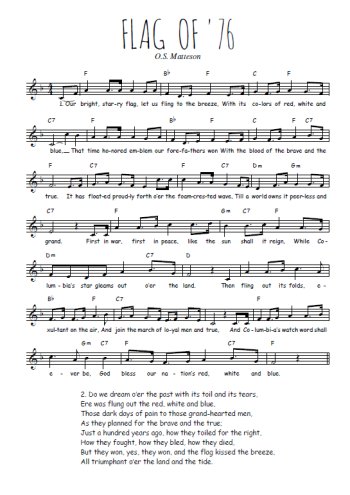 Paroles
1. Our bright, starry flag, let us fling to the breeze,
With its colors of red, white and blue,
That time honored emblem our forefathers won
With the blood of the brave and the true.
It has float-ed proudly forth o'er the foam-crested wave,
Till a world owns it peerless and grand.
First in war, first in peace, like the sun shall it reign,
While Columbia's star gleams out o'er the land.

Then fling out its folds, exultant on the air,
And join the march of loyal men and true,
And Columbia's watch word shall ever be,
God bless our nation's red, white and blue.
2. Do we dream o'er the past with its toil and its tears,
Ere was flung out the red, white and blue,
Those dark days of pain to those grand-hearted men,
As they planned for the brave and the true;
Just a hundred years ago, how they toiled for the right,
How they fought, how they bled, how they died,
But they won, yes, they won, and the flag kissed the breeze,
All triumphant o'er the land and the tide.
Commentaires
Laissez votre adresse email si vous souhaitez une réponse