La partition « Sam Bass »

Partition gratuite en PDF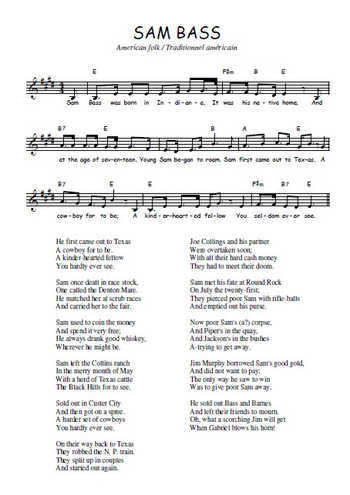 Commentaires
Laissez votre adresse email si vous souhaitez une réponse
Paroles
Sam Bass was born in Indiana,
It was his native home.
At the age of seventeen
Young Sam began to roam.

He first came out to Texas
A cowboy for to be.
A kinder-hearted fellow
You hardly ever see.

Sam once dealt in race stock,
One called the Denton Mare.
He matched her at scrub races
And carried her to the fair.

Sam used to coin the money
And spend it very free.
He always drank good whiskey,
Wherever he might be.

Sam left the Collins ranch
In the merry month of May
With a herd of Texas cattle
The Black Hills for to see.

Sold out in Custer City
And then got on a spree.
A harder set of cowboys
You hardly ever see.

On their way back to Texas
They robbed the N. P. train.
They split up in couples
And started out again.

Joe Collings and his partner
Were overtaken soon.
With all their hard cash money
They had to meet their doom.

Sam met his fate at Round Rock
On July the twenty-first.
They pierced poor Sam with rifle-balls
And emptied out his purse.

Now poor Sam's corpse,
And Piper's in the quay,
And Jackson's in the bushes
A-trying to get away.

Jim Murphy borrowed Sam's good gold,
And did not want to pay.
The only way he saw to win
Was to give poor Sam away.

He sold out Bass and Barnes
And left their friends to mourn.
Oh, what a scorching Jim will get
When Gabriel blows his horn!
Mais aussi

Chansons américaines
Jack o'Diamonds
The Dying Ranger
Hold your light
Whoopee Ti Yi Yo, git along little Dogies
The Texas Cowboy
Les plus téléchargées
Joyeux anniversaire
Au clair de la Lune
La Marseillaise