La partition « Days of Forty-Nine »
Les versions disponibles ci-dessous :
Chant

Partition de chant
Partition gratuite en pdf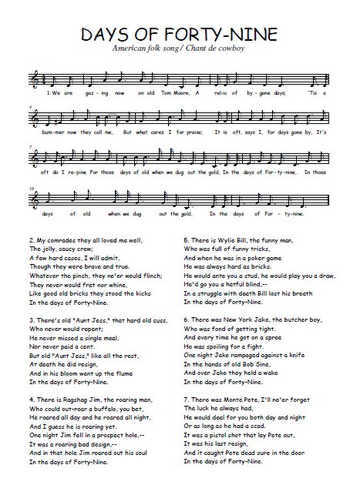 Partition Chant et piano

Coût : 2 crédits
Commentaires
Laissez votre adresse email si vous souhaitez une réponse
Paroles
1. We are gazing now on old Tom Moore,
A relic of bygone days.
'Tis a bummer, too, they call me now,
But what cares I for praise?
It's oft, says I, for the days gone by,
It's oft do I repine
For the days of old when we dug out the gold
In those days of Forty-Nine.

2. My comrades they all loved me well,
The jolly, saucy crew.
A few hard cases, I will admit,
Though they were brave and true.
Whatever the pinch, they ne'er would flinch.
They never would fret nor whine,
Like good old bricks they stood the kicks
In the days of Forty-Nine.

3. There's old "Aunt Jess," that hard old cuss,
Who never would repent.
He never missed a single meal,
Nor never paid a cent.
But old "Aunt Jess," like all the rest,
At death he did resign,
And in his bloom went up the flume
In the days of Forty-Nine.

4. There is Ragshag Jim, the roaring man,
Who could out-roar a buffalo, you bet,
He roared all day and he roared all night,
And I guess he is roaring yet.
One night Jim fell in a prospect hole,
It was a roaring bad design,
And in that hole Jim roared out his soul
In the days of Forty-Nine.

4 autres couplets présents dans le pdf.
Mais aussi

Chansons américaines
The Dreary Black Hills
There's a meeting here tonight
Lord, remember me
Not weary yet
Go in the wilderness
Les plus téléchargées
Joyeux anniversaire
Au clair de la Lune
La Marseillaise