La partition « Timber - Jerry, the mule »

Partition gratuite en PDF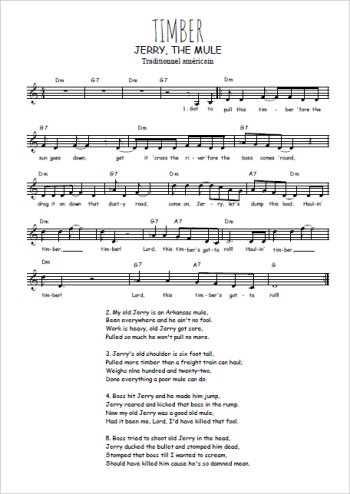 Commentaires
Laissez votre adresse email si vous souhaitez une réponse
Paroles
1. Got to pull this timber 'fore the sun goes down,
Get it 'cross the river'fore the boss comes 'round,
Drag it on down that dusty road, come on, Jerry,
Let's dump this load. Haulin' timber, timber!
Lord, this timber's gotta roll! Haulin' timber, timber!
Lord, this timber's gotta roll!

2. My old Jerry is an Arkansas mule,
Been everywhere and he ain't no fool.
Work is heavy, old Jerry got sore,
Pulled so much he won't pull no more.

3. Jerry's old shoulder is six foot tall,
Pulled more timber than a freight train can haul;
Weighs nlne hundred and twenty-two,
Done everything a poor mule can do.

4. Boss hit Jerry and he made him jump,
Jerry reared and kicked that boss in the rump.
Now my old Jerry was a good old mule,
Had it been me, Lord, I'd have killed that fool.

5. Boss tried to shoot old Jerry in the head,
Jerry ducked the bullet and stomped him dead,
Stomped that boss till I wanted to scream,
Should have killed him cause he's so damned mean.



Traduction
Il faut s'occuper du bois avant la fin du jour
Lui faire traverser la rivière avant le retour du patron
Le tirer le long de cette route poussièreuse
Allez, Jerry ! Débarassons-nous de ce chargement !
Mais aussi

Chansons américaines
Little Peter Rabbit
Run, nigger, run
I an' Satan had a race
Thanksgiving Day
The girl I left behind
Les plus téléchargées
Bella ciao
Au clair de la Lune
Joyeux anniversaire