La partition « The rose of Glamorgan »

Partition gratuite en PDF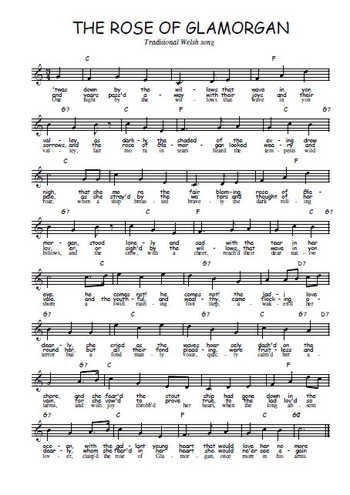 Commentaires
Laissez votre adresse email si vous souhaitez une réponse
Paroles
1. 'twas down by the willows that wave in yon valley, as darkly the shaded of the eving drew nigh, that she mo ra the fair bloming rose of Glamorgan, stood lonely and sad with the tear in her eye. he comes not! he comes not! the ladi love dearly, she cried as the waves hoar sely dash'd on the shore, and she fear'd the stout ship had gone down in the ocean, with the gallant young heart that would love her no more

2. and years pass'd away with their joys and their sorrows, and the rose of Glamorgan looked weary and pale, as she stray'd by the wa ters and thought of her lov, er, or sigh'd by the willows, that wave in yon vale. and the youthful, and wealthy, came flocking around her, but all their fond pleading, were fruitless and vain, for she vow'd to prove true, to the lad lov'd so dearly, whom she fear'd in her heart she would ne'er see again

3. One night by the willows that wave in yon valley, fair mo ra in tears heard the tempests wild roar, when a ship breasted bravely the dark rolling billows, and the crew, with a cheer, reach'd their dear native shore a swift rushing foot step, awaken'd her terror but a fond manly voice, quicly calm'd her alarms, and with joy throbb'd her heart, when the long absent lover, clasp'd the rose of Glamorgan, once more in his arms.
Mais aussi

Chansons galoises
The Ash groove
Deck the halls
Sospen Vach, The little saucepan
Hunting the hare
March of the men of Harlech
Les plus téléchargées
Joyeux anniversaire
Au clair de la Lune
Bella ciao