La partition « Lawn as white as the driven snow »

Partition gratuite en PDF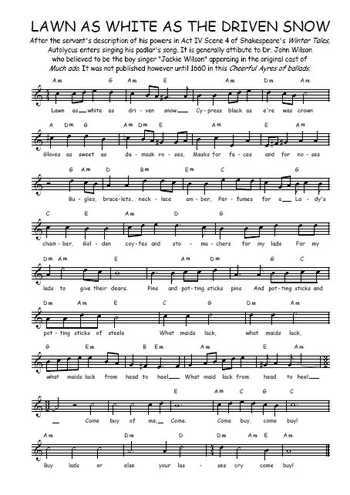 Commentaires
Laissez votre adresse email si vous souhaitez une réponse
Paroles
After the servant's description of his powers in Act IV Scene 4 of Shakespeare's Winter Tales,
Autolycus enters singing his padlar's song. It is generally attibute to Dr. John Wilson
who believed to be the boy singer "Jackie Wilson" apperaing in the original cast of
Much ado. It was not published however until 1660 in this Cheerful Ayres of ballads.

Lawn as white as the driven snow
Cypress black as e're was crown
Gloves as sweet as damask roses,
Masks for faces and for noses
Bugles, bracelets, necklace amber,
Perfumes for a Lady's chamber,
Golden coyfes and stomachers for my lads
For my lads to give their dears.
Pins and potting sticks pins
And potting sticks and potting sticks of steels
What maids lack, what maids lack,
What maids lack from head to heel
What maid lack from head to heel Come buy of me,
Come. Come buy, come buy!
Buy lads or else your lasses cry come buy!